"Everybody's Happy" Restaurant - "Shanghai Flagship" in "Great Shanghai Times Square Store"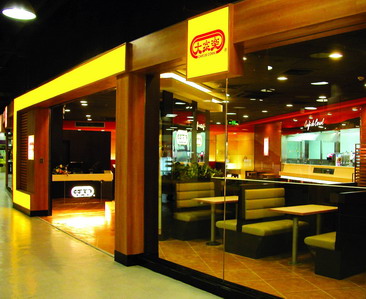 Bright international famous food brands, exhibition fashion restaurants have tempting taste. Leading the fast food industry in Hong Kong, Da Le Express entered Shanghai, and its Shanghai flagship store, Dang Le Le, entered Shanghai Times Square on Huaihai Middle Road in Shanghai on November 9th last year to showcase a variety of signature foods and elaborate creations by renowned designers. The flagship restaurant with a distinctive style.

Shanghai and Hong Kong companies join forces to build a national brand

"Daimenle" restaurant is affiliated to Shanghai Xin Ya Jia Lele Catering Co., Ltd. This company is not a small company. It was established by Shanghai Jin Jiang International Hotel Development Co., Ltd. and Hong Kong Allegro Group. Shanghai Jin Jiang International Hotel Development Co., Ltd. is affiliated with Jin Jiang International Group and is the largest comprehensive group of hotels, restaurants, and tourism in China. The Hong Kong Concierge Group is the world's largest Chinese fast food chain group. Together, we have worked hard to build the first flagship restaurant in East China and are determined to upgrade China's catering services to a higher level. Their preferred city is Shanghai.

The "Music for All" brand is the second brand introduced by the company following the "New Asia Big Bang" and launched in Shanghai, targeting mainly the medium-to-high end Chinese fast food market. "Everybody is happy" Shanghai restaurant is another markup promotion of the famous brand "Daily House". Hong Kong Glory Group chose to open the first 'Dai-Ga' restaurant in East China in Shanghai because of the rapid development of the domestic economy, and Shanghai has always been an important hub for China and other international metropolises. The public's awareness of consumption and their demands are extremely high. At the international level, they require the restaurant environment and design to be styled, comfortable and tasteful. As long as value for money, they are willing to "pay the bill." "Music" is not only in line with the public's requirements, but also to raise their requirements to a higher level, so he is determined to design the one that best fits the pulse of the times in Shanghai. It is both efficient and provides quality services, and also has the style of an international metropolis. The stylish restaurant is a good place for business customers, office workers, young lovers, and a family of young and old to share food and experience stylish life.

Designer Design Unique

With more than 120 seats in the "Daily Music" restaurant, the layout of the seats and passageways is extremely comfortable and spacious. In order to match the image of the metropolis of Shanghai, the restaurant is modeled on a fresh, bright and space-inspired European-American design. The most favorite customers are the white and apricot mosaics used in the shop walls, accompanied by lively potted plants, and the natural and fashionable decoration concepts popular in European and American high-end restaurants have been brought into full play. In addition, the use of clear glass and white oil-based bottom glass has brought out a clean and bright sensation and reflected light, both of which have effectively conserved energy. This is a design concept that is highly appreciated by environmentalists. Each detail of the "Everybody" restaurant, even if it is a table or a chair, was carefully selected by the designer to match the mood and needs of different customers. In the seat, there are five different styles, including couches, box seat sofas, and semi-reservoir sofas, square back seats, light metal seats, to suit different customers' moods, preferences and needs.

A variety of attractive signature dishes

Hong Kong is an international cosmopolitan city. Its multi-cultural integration has enabled Hong Kong's food and beverage industry to not only retain the essence of traditional Chinese cuisine based on Cantonese cuisine, but also to be a full-fledged Chinese cuisine. The cooking methods of the dishes are widely adopted, forming a trend of Chinese and Western cuisines and satisfying the dining needs of consumers at different levels.

"Everybody is happy" knows that modern people like to taste something new, but they don't love to take risks. Therefore, in product design and production, a flexible policy to match the beats of the times has been adopted. When introducing various kinds of trendy foods, the food mix and taste are improved due to the preferences of local diners, such as the Hong Kong-style milk tea popular with the people of Hong Kong. In order to make coffee, we have been constantly improving and asking for advice before introducing the "Daily House" Shanghai Porter-style milk tea version and freshly brewed coffee version. The first choice for the limelight is "One Brother?h Pork Paella", two big pork chops with egg fried rice, fresh tomatoes, onions, and white fungus and secret sauce, and then fresh butter. Broccoli with saucers, each one has a great taste.
Hainanese chicken rice with tender and crisp skin brings super enjoyment to the taste. As for the soft and tender crispy squid meal with Japanese flavor, as well as plenty of meat and savory American cuisine, the American-style Sirloin steak iron plate set, each signature dish can meet the needs of Shanghai diners.

All existing hot dishes, hot freshly cooked dishes, restaurants can be arranged for special delivery, so that customers do not need weeks, you can choose friends after the selection of food, leisurely chat, and waiter waiter sent the food.

Shanghai Flagship Restaurant International Famous Brand
"Everybody is happy" People-oriented, people are employees and customers. To make customers satisfied, we must first make employees play a high level. Relying on the internationally famous brand "Music", a modern professional management system, as a powerful training and development support, "Meile Music" restaurant has selected outstanding employees to train in South China branch several months before the opening number. The elites of the Hong Kong and Shanghai kitchen departments also visited each other to learn about local production processes and develop new product portfolios. Hong Kong's "Corporate Music" headquarters will also regularly send professional tutors to Shanghai to hold training courses so that all employees will receive professionalism.

The restaurant is stylish and the test results are ideal

Just after he stepped out of the "Music for All" restaurant, he also saw a densely reconstructed service desk in front of a dark brown wooden wall that displayed a strong atmosphere of the city. Next to the wall was embroidered with a huge metal decoration, to escape and rich tone, the people tightly traction, no wonder when the restaurant is still in the trial period, has become the focus of the trend, a large number of workplace professionals, leisure group and young people Come here to taste a variety of famous foods that have been known for a long time, as well as to experience the unique taste of the famous designer with simple lines, bright colors, natural materials and different wall decorations, and lively plants, creating a taste Eating environment.

Attached: "happy music" small data

The Conga Group, which has been in Hong Kong for 35 years, has over 120 branches in Hong Kong and 12 in Macau. Located at Shanghai Times Square on Huaihai Road, Shanghai "Daimenle" is the first flagship restaurant in the East China region built by Jin Jiang International Group and the Hong Kong Conglory Group. It covers an area of ​​300 square meters and provides a stylish and elegant eating environment with more than 130 seats. .
Tie Clip & Cufflink ,Tie Clip Cufflink Set,Tie Pin Cufflinks Set India,Tie Clip And Cufflink Box
DHDURTJ , http://www.nbkeychain.com