In the first half of 2012, China's Fujian clothing brand Septwolves from the "new product release and then accused of cottage" to "financing 1.8 billion to buy a house suspected of" detour "investment in real estate", and then to "fixed increase exposure fund thin seven-wolves chairman Zhou Shaoxiong suspected of selling sheep After news such as Dog Meat was exposed, the seven wolves could be described as "scandalous".
Seven wolves released for new products for two consecutive years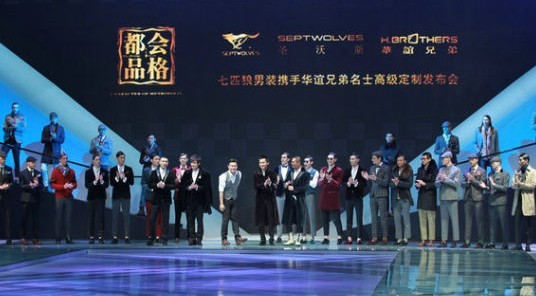 On the evening of March 30, 2012, Fujian clothing brand Septwolves and Huayi Brothers staged a "Haute Couture" fashion show in Beijing. At the same time, "Seven Septwolves" took this high-profile announcement and the "Huayi Brothers" formally launched this year's major cross-border cooperation strategy. However, this "high-end" show from the product itself to the show's form gives people a "shanzhai" confusion. Seven wolves set up two "supermarket escalators" on the show floor, and the models ran out from the elevator. However, as early as March 2011 Louis Vuitton new women's T stage, also used the elevator as a stage prop. However, the elevator used by the big name is more advanced and more foreign than the supermarket version of the seven wolves. The old elevators of the last century, with attendant services, opened the lift doors for the models, and the entire stage design perfectly matched the theme that the show wanted to present. The supermarket escalator of the seven wolves show is difficult to integrate with its so-called "Celebrity" positioning.
When Huayi Bros.'s affiliates took to the T stage to bring a full-featured performance, people seemed to return to the scene in January 2012 Milan Fashion Week when the Oscar winners appeared in the Prada Menswear Show. At the time, this grand show with a degree of luxury comparable to the red carpet of Oscar instantly attracted the attention of the global media and successfully became the most impressive big show on Milan Men's Week. With such a successful case, it is no wonder that domestic clothing brands quickly copied it. In the T stage of China International Fashion Week. However, "Seven Septwolves" announced such a high profile with the "Huayi Brothers" cross-border strategic cooperation. In this show only Zhang Hanyu, Feng Shaofeng, Shang Wenyi, Li Chen, Shao Bing, Bao Jianfeng, Chen Chusheng and other stars have been seen. See the top stars of Huayi Brothers to help out.
As early as March 2011, seven wolves had been published by the magazine "World City" Hung Hau pointed out that apparel products were suspected of plagiarizing LV and Gucci's early fashion works. "Smiling" Seven Shaolin Brand Chairman Zhou Shaoxiong accompanied the designer to call a curtain call. I do not know whether it was Hung Shah's "smiling" reason, in this year's show field, seven Shaoxing brand chairman Zhou Shaoxiong did not accompany the designer to call off the curtain, but the seven wolves of various "cottage" is still obvious.
Financing 1.8 billion to buy a house Seven wolves were suspected to "bypass" investment in real estate

In retrospect, Septwolves issued RMB 22.85 million ordinary shares (A shares) to the public in October 2007, raising net proceeds to RMB 584,815,600. It is understood that the raised funds were originally planned to be used in the "sales network upgrade project." The project plans to invest a total of 844,800 yuan, plans to use the funds raised 548,815,600 yuan.
In addition, on November 8th, 2011, Septwolves once again issued the "Private Stock Issuing Plan", saying that the total amount of funds to be raised shall not exceed RMB 1.8 billion for investment and construction of a "marketing network optimization project." After the completion of the project, Septwolves expects to increase the business area to 180,000 square meters. After the project reaches its capacity, the new annual sales scale will be about 1.4 billion yuan. For seven wolves, the frequent increase in property purchases, there are industry insiders questioned that they have the tendency to invest in real estate.
Seven wolves will increase the exposure of fund slimming Zhou Shaoxiong is suspected to hang sheep's head to sell dog meat

Seven wolves set exposure to 26 funds in the second quarter suffered net redemptions. Seven wolves set an increase of 1.798 billion raised funds. The targeted private placement was favored by seven fund companies. Of these, 27 partial stocks have experienced early changes in their share changes since the second quarter. Although these funds generally outperformed the broader market, the basic public pocketbooks are more secure and have 26 funds. Quarterly net redemption.
According to the Securities Daily report, seven wolves are expanding the number of self-operated stores, so they have adopted non-public offerings to raise funds. However, seven wolves now have more than 4,000 stores, and industry figures have pointed out that the company's market share has been stable and there is little room for development. Questioning this, Zhou Shaoxiong, general manager of Seven Plushs, said in his interaction with investors that in 2011, the company's strategic consultants estimated that the company's red, green, and blue standard series could open 5,000 stores based on the current status of the mature business district and competitive brand sales outlets. Saturation is about 70%. With the advancement of urbanization, the emerging business district will continue to mature, and open space for stores will continue to emerge.
Some people in the industry suspect that the seven wolves were selling their dog meat, called buying a store and actually buying real estate. However, today's housing prices have been pushed to a certain height and remain high. The company may have to spend a huge sum of money on whether to buy a store or property.
Seven wolves products have been exposed to quality problems

· Sixty-five wolves and other clothing were found to be unqualified

Seven wolves, a female POLO collar short T-shirt, a lion's king shirt, and an urban Milan's pants were detected as unqualified. According to reports, the composition of raw materials is a description of the material of the commodity, and it is also the main content of whether the commodity is genuine. If the ingredients are incorrectly labeled, they can mislead consumers.
· "Seven wolves" handbag "dunbila" bag on the quality of the black list or induce cancer

The product quality monitoring results recently announced by the Hunan Provincial Bureau of Quality and Technical Supervision show that the "Seven Wolf" women's bag produced by Fujian Septwolves Footwear Co., Ltd. and the "Zi Xianzhu" student bag produced by Rongfa Handbags Co., Ltd. are included. Batch package products failed, suture strength does not meet the requirements.
· China Consumers Association exposed seven wolves special steps Li Ning socks quality problems

China Consumers Association conducted comparative tests on 52 brands of socks sold in the Beijing and Tianjin markets. In the test, 34 samples were more seriously worn. Other non-standard socks include crocodile men's socks, Pierre Cardin gentleman socks, mermet Mercerized cotton XL men's socks, seven wolves, special steps, Li Ning men's sports socks and so on.
Bosgoo(China)Tecgnology Co., Ltd , http://www.bosgootest.com